http://er.educause.edu/articles/2017/8/digital-engagement-for-campus-communication?utm_source=Informz&utm_medium=Email+marketing&utm_campaign=ER#_zsLbuKe1_zldg9A4
Anyone who has strolled through a college or university campus lately has experienced content bombardment — flyers, posters, advertisements, live videos, social media posts, digital signs, and much more, all competing for attention. How do we engage students with important success-related information, which too often gets lost in this flood of content? How do we attain our goal of fostering a more well-informed, highly engaged campus population?
Over the past eight years, George Mason University has developed a strategy to advance digital communications and engagement. One key takeaway for us was simply this: whatever we did, it would require fresh approaches to forging and maintaining connections with students, alumni, faculty, and staff.
Setting the Stage for a New Approach to Digital Engagement
George Mason is Virginia's largest public research university, with 34,000 students from all 50 states and 130 countries and a residential population of more than 6,000 students. Mason offers over 200 degree programs at campuses in Arlington, Fairfax, and Prince William, as well as at learning locations across the Commonwealth of Virginia. Our active student body is usually a few steps ahead of us on technology issues, so it was no surprise that students increased their demands to see and engage with the large amounts of content created by various groups across campus in a consolidated, innovative, and easily understood medium.
We've been developing, leveraging, and evolving our digital engagement plan over the past eight years with four goals in mind:
Increase student engagement and thereby student success
Introduce campaigns to highlight important campus issues and events
Enhance emergency messaging
Generate returns/savings to the university from paid advertising and outsourced services
In 2008, Auxiliary Enterprises at George Mason created an RFP for a digital signage program to fulfill the basic needs of communication, but with an emphasis on emergency notification as well as revenue creation through sponsored messaging. The communication program has evolved since our initial implementation to a seamless, innovative system where curated student social media, videos, flyers, and live events are delivered digitally via social platforms such as mobile, existing digital signage, and cable infrastructure.
Shapes and Sizes of Digital Engagement Platforms
At George Mason, social media, mobile, digital signage, and cable TV form the four key components of our digital engagement platforms, and they work together seamlessly.
Social media: We've learned that if we're trying to talk to college students, market to them, or engage them in any way, if we're not on social media, then we don't have a chance. And if we are on social media, it is essential to address their interest in the visual while also acknowledging their desire for privacy and customization.
Mobile: Since the 2007 introduction of the iPhone, the use of mobile has steadily increased, largely due to the easy use of apps and mobile platforms. Yet until recently, the desktop was considered the primary source for reaching potential students. Now it has become more important to engage students where they are, which is on their mobile devices.
Digital signage: Our digital signs support the university's emergency notification system, help improve community awareness and participation, and serve as a platform for local and national advertisers through a network of 64 LCD screens across our four campuses. Mason departments and student organizations can advertise their events, workshops, meetings, and products using both static and dynamic advertisement — free.
Cable TV: Today's students generally prefer visual formats, so we grab their attention through video. We use cable TV to integrate both entertainment and university content with social media outlets and digital signage to provide an all-in-one campus experience.
The use of digital technologies encourages students to watch and interact with information. Curating and sharing student-generated content, for example, excites students who see their groups and interests on platforms such as signs, TV screens, and mobile devices. This exposure makes them momentary campus "celebrities," which encourages them to engage more. Today student advertising on campus has become part of campus culture. With their own ads, and the ability to interact with TV screens and/or digital signs using their mobile phones, students engage frequently with the screens. Mobile interaction includes things like live polling, ticketing and coupons, interactive gaming, surveying, and texting for more information.
We're also pleased by how our digital engagement initiatives have enhanced emergency messaging. Our communication program has proven to be effective in distributing emergency messages to the university community and also the public and visitors not registered with the university's emergency notification system.
The SMS created by the Emergency Health & Safety Office is automatically displayed on all appropriate screens on campus. For example, if there's a tornado warning near the Prince William campus, the screens at that campus exclusively would show an alert. In the case of inclement weather on any campus, the message would display on all screens throughout the university (see figure 1).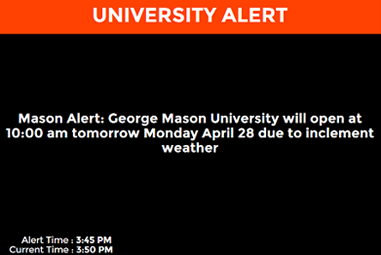 The university alert system includes the "Mason Ready" mobile app, which gives students emergency notifications and information as well as links and emergency phone numbers accessible directly from the app. The app also allows anonymous crime/tip reporting. We even have a tag line to encourage use of the mobile app: "You're not Mason Ready unless you're mobile ready!"
Cost of Maintenance and Support
Like any other institution, George Mason focused on the financial implications of a digital engagement program. How could we meet our communication needs without increasing student fees or adding significant costs?
We analyzed the cost of managing a system in-house versus if we outsourced the services. We quickly found that outsourcing non-core technologies, especially media platforms, would be central to the program's success. A cost-benefit analysis of what it would take to hire new Mason staff to deliver similar services showed the significant cost-effectiveness of outsourcing. The university decided to outsource the services to higher education residential network and video services specialist, Apogee.
Cost Savings of Outsourcing vs. In-House
To give you an example of cost savings, a typical software-as-a-service (SaaS) model sells hardware and charges a fee for an annual software license. In reality, the cost of operating the platforms would have significantly exceeded this base amount, as we would have had to hire two full-time staff to manage the system. Including benefits, it would cost the university nearly $170,000 per year to run the platforms in-house. We would also have needed to purchase 64 digital signage players, which could cost up to $120,000, plus $24,000 in annual hosting costs. By choosing an outsourced provider, we saved more than $300,000 over in-house costs.
Since 2009 George Mason has worked with Apogee to transition the school's digital signage model from a traditional one, with one individual player attached to one digital sign, to a cable TV solution, in which one player can transmit output to multiple digital signs via a local origination channel. The cable TV output currently displays on about 64 digital signs across the university's four campuses as well as on any connected devices.
We also found the benefits of outsourcing have included a stronger service continuity plan, reduction in staff training, onsite and remote IT support, and a drastic reduction in support costs due to a decreased amount of pain points in the system.
Social Media Campaigns—Key to the Engagement Plan
The most effective engagement comes when our students take part in the communication plan. Combining student-created content and social media posts with important university content has become key for us at Mason. Social media engagement with students has included campaigns such as social media feeds in which approved student Instagram and Twitter posts using school-specific hashtags are displayed on various platforms, again enhancing the "celebrity effect," as well as Twitter polls in which students can tweet their votes using unique hashtags, which are then aggregated through social media software.
The following samples illustrate some of our social media campaigns.
Engaging Students to Shop Mason
One key component of the system is tying the Campus Life Channel (Mason's dedicated TV channel) into existing technology. For example, we work with George Mason retail operations — #Shop Mason — to drive students to the university's retail system by promoting mobile interaction with Shop Mason advertising (figure 2).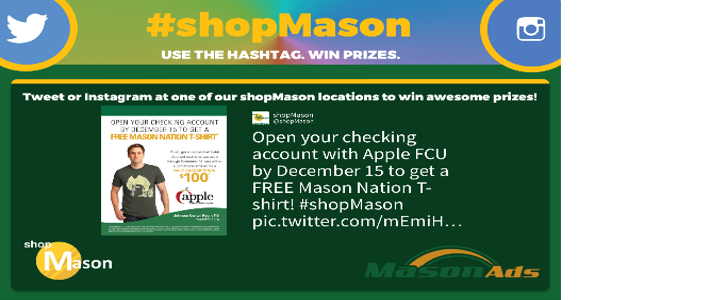 Managed Livestreaming
When President Obama delivered a healthcare speech at George Mason in 2016, administrators received just two hours' notice. Facing limited seating, we informed Campus Life Channel managers and were able to use consolidated technologies to let students about his arrival and also to livestream the event across campus during his speech (figure 3).

One of the most recent livestream campaigns was the women's lacrosse game the night of April 21, 2017. The livestream replaced our regularly scheduled output to show real-time footage of the game (figure 4). We switched the output back to normal programming after the game concluded.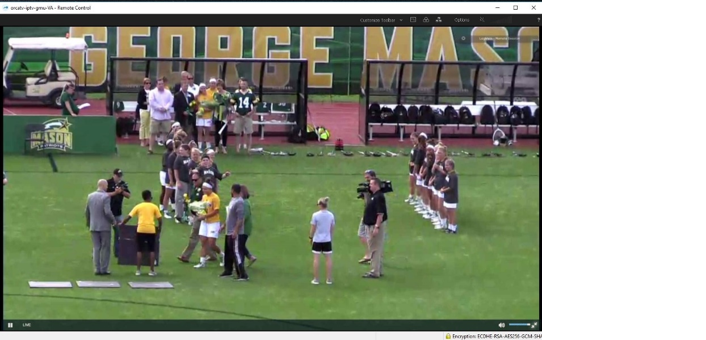 Managed Snapchat Campaigns
Snapchat is one of the most popular social media platforms among Mason students, allowing users to send instant video and photo messages to their friends through its mobile app. Users can also apply effects to their messages, or "snaps," to make them more exciting. For example, geofilters are location-specific overlays that students can apply to individual snaps before forwarding to their friends. We've leveraged students' affinity for Snapchat by designing custom, event-specific Snapchat geofilters to encourage students to highlight our on-campus programming. And we get Snapchat campaign analytics following the conclusion of each campaign. We've found that our Snapchat campaigns have successfully encouraged student engagement.
Take a campaign like our Spring Preview, part of this year's Mason Admission event. We sponsored a Snapchat geofilter and circulated a social media feed around campus featuring approved Instagram and Twitter posts using #ChooseMason. We curated the posts throughout the day for appropriateness. The social feed featuring #ChooseMason saw 226 approved Instagram and Twitter posts. The Snapchat geofilter had 191 impressions, 38 conversions (uses), and 1,268 total views (see figure 5).

We had a similar campaign for the recent homecoming. We ran a homecoming-specific video on digital signage across campus while designing and sponsoring a Snapchat geofilter and social media feed. We partnered with the Office of Student Involvement to promote the events on campus and incorporated the official Mason Homecoming logo into the Snapchat geofilter. Next, we determined the optimal times to display the geofilter. In the end, the custom Snapchat geofilter saw 1,411 swipes, 320 uses, and 23,483 views over the period it ran in Lot K and the Eaglebank arena.
We also reformatted the video to display on over 64 digital signs around campus via the Campus Life Channel to promote a variety of homecoming events, such as the homecoming basketball game.
Managed Instagram/Twitter Campaigns
For homecoming, we also ran a social feed featuring Instagram and Twitter posts using #MasonHC, the official Mason homecoming hashtag. The social feed had 229 approved, curated Instagram and Twitter posts using #MasonHC (figure 6).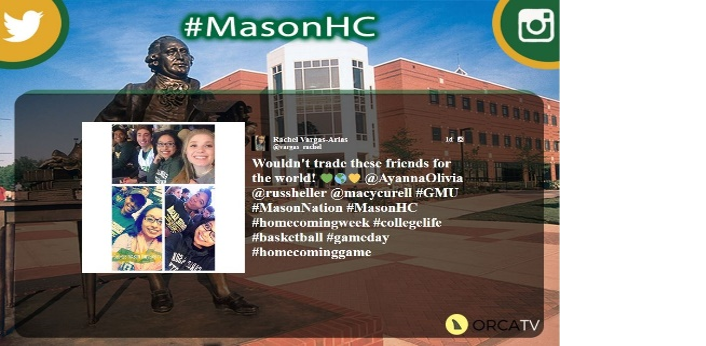 Mobile Initiatives — Also Key to the Engagement Plan
In addition to social media campaigns, we have a constant stream of mobile initiatives going on throughout the year. A few examples follow.
#Free App Friday Initiative
Mason's Assistive Technology Initiative (ATI) runs a campaign to promote a different free app every Friday, giving members of the Mason community the option to download the apps with tips and training resources included. ATI advertises these apps to students using #FreeAppFriday through their Twitter handle and promotes them on their Facebook page. Campus Life Channel promotes these initiatives by featuring social media posts, using digital signage to highlight ATI's social media posts.
Mobile Mason
Keeping students connected is the goal of the Mobile Mason initiative. The Mobile Mason app lets students keep up with the latest campus news and events, check team scores, buy Mason gear, check shuttle schedules, and much more (figure 7).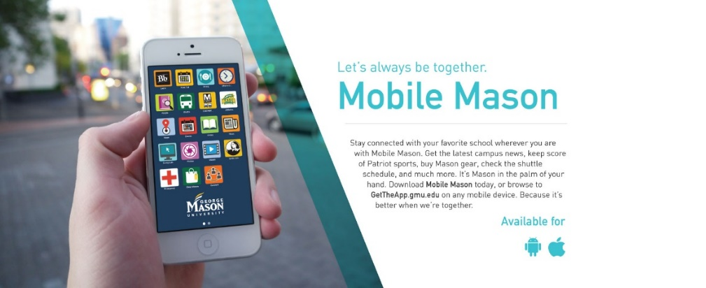 Our mobile retail initiatives in particular really get students engaged — especially if there's a "free" offering as part of the promotion. A recent Starbucks promotion was displayed on digital signage, and students could download a code on their mobile devices to get the offer. Approximately 275 students participated.
Managed Mobile Monitoring
Mobile, we've found, is an especially good way to get feedback from students. One of the initiatives we have underway is monitoring social media texts based on some Mason-relevant keywords, and then responding within minutes on behalf of the university. Let's say someone tweets "How come we have no Cheerios in the dining hall today?" We would respond to that tweet within minutes.
Mobile Assistive Technology Initiatives
A host of mobile apps provide access to electronic and information tech resources to everyone on campus, with or without a disability. These apps assist students in accessing Mason services, e-books, organizational tools, notetaking support, and more. For example, apps for the visually impaired include things like Vision Assist, which turns a mobile device into an electronic magnifier, or Audio Notetaker, which helps create detailed, comprehensive notes from any class, lecture, or group meeting.
The Student Ambassador Program
As part of our communications strategy, we delegated some responsibility for the program to the students themselves. The result is the new George Mason Student Ambassador Program, in which we hire a student to serve as the link to other students. The student's role is to ensure our Campus Life Channel stays relevant, plan social campaigns, foster a strong school community, and receive exposure to real-world scenarios.
Helen Row, this year's student ambassador, is a senior and communications/public relations major. She explained how the digital engagement program has increased student engagement on campus:
"In previous years, my PR class could only share their 'social good' campaigns on their own social media. I pitched the class on using the Campus Life Channel to spread their messages. Their videos would loop 100 times a day over a week. The class created incredible videos and launched a hashtag for live streaming on the CLC televisions. … And when I talk to student organizations, I tell them that CLC is a tool that can spread their message to everyone and thus can help them recruit students to the group or to events, without having to really do any recruiting."
Tracking and Measuring Success
To analyze the effectiveness of our digital engagement program, we use data from the new platform, which tracks content submissions and provides insights into how the content is performing. We get analytics every quarter (figure 8) showing the performance of our social media campaigns, mobile initiatives, TV screens, and digital signs.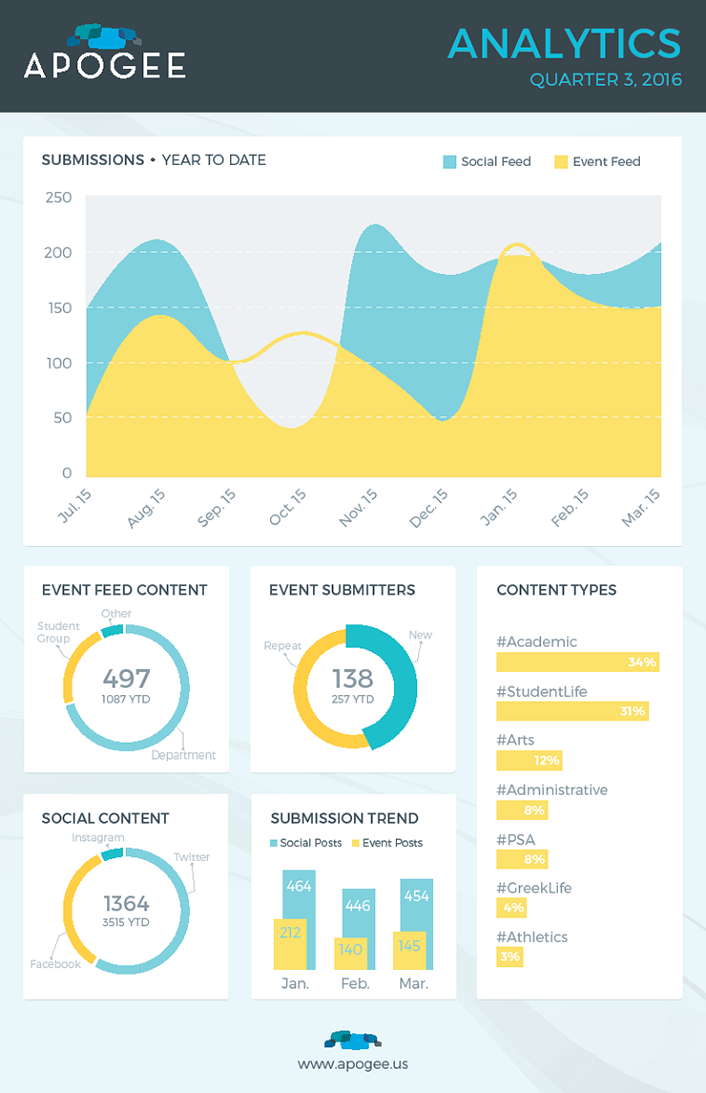 We've noticed a marked increase in student engagement over the years. Feedback from students is that they see the TV screens and digital signs as a go-to place for the latest updates on campus happenings. Before, George Mason managed content internally and received about 30 static images a month; now we curate over 3,000 social posts, flyers, and videos a month.
As some of the students have noted:
"George Mason is a school overflowing with diverse campus organizations, and there is almost always something going on. With so many events and organizations, it can be hard to keep up with everything. Thankfully, MasonAds provides an easy way to stay up to date on what's happening, with prime placement in important buildings and clear visuals that keep the on-the-go student in the know."
—Kelsey Tetreault, George Mason Class of 2018

"The televisions on campus help me keep up with what is happening and have helped me get more involved."
—Lindsay Bernhards, George Mason Class of 2018
Looking Ahead
Digital engagement is rapidly moving beyond even our pocket screens. It now includes fitness bands, smart watches, and augmented reality devices. Soon it will include a digitally enabled campus full of sensors. The practical, pedagogical, and privacy implications of a smart, connected digital campus engaged with its constituents have yet to play out, but colleges and universities need to be well positioned today, with effective strategies in place to handle whatever comes next. Facing a constantly evolving environment, planning, implementing, and evaluating student communications and engagement programs require our attention now.